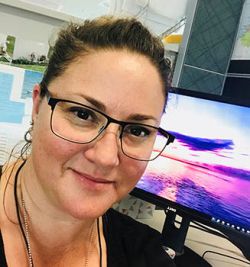 Kerrie brings a wide range of skills, experience and expertise to the CPC Team. As an excellent Project Manager and Program Team Leader, Kerrie is able to work with any individual, team or community group to achieve their desired outcomes.
Kerrie demonstrates empathy and respect for any group that she works with by actively listening to their needs and developing practical and outcome focused solutions.
Kerrie has effectively delivered the CPC Programs to a range of groups and organisations. She has worked across Queensland including delivery of programs on Aboriginal Communities.
Through her work in Government and for NFP Organisations, she has developed a wide knowledge of policy and procedure and is able to translate that to the business environment as she works with teams to develop their own processes to meet organisational and external compliance requirements.
Kerrie has extensive knowledge and experience in all aspects of Natural Resource Management (NRM) and in the development and implementation of training relative to this area.
Kerrie has experience in working with Traditional Owner groups to develop procedures around Caring for Country.
Kerrie has delivered the CPC Business Program across North Queensland and on community as well as personal development programs for the Young Women at Doomadgee Community. While on community, Kerrie also supported Council staff to develop procedures in the areas of NRM.
Kerrie has the ability to combine her experience and her formal education in Business and Environmental Science with her technical knowledge to design practical, hands-on solutions that provide positive and successful outcomes for any team or individual.
"Tell me and I forget,
Teach me and I may remember,
Involve me and I learn.'
Benjamin Franklin